EPAM Anywhere: PoC → MVP launch
In 2019 EPAM needed a portal that could support engineers thought-out their career at EPAM to work with remote workforce — both internal employees and external contractors. The portal aimed to become a one-stop solution for anything "supply"-related in the Anywhere program:
This is second part of the EPAM Anywhere case study.
See also: Part 1 and Part 3.
engineers engagement;
new EPAMers on-boarding;
automated skill evaluation;
work and continuous delivery tools;
payments, and more.
I was hired as a part of the design team to create from scratch such a portal.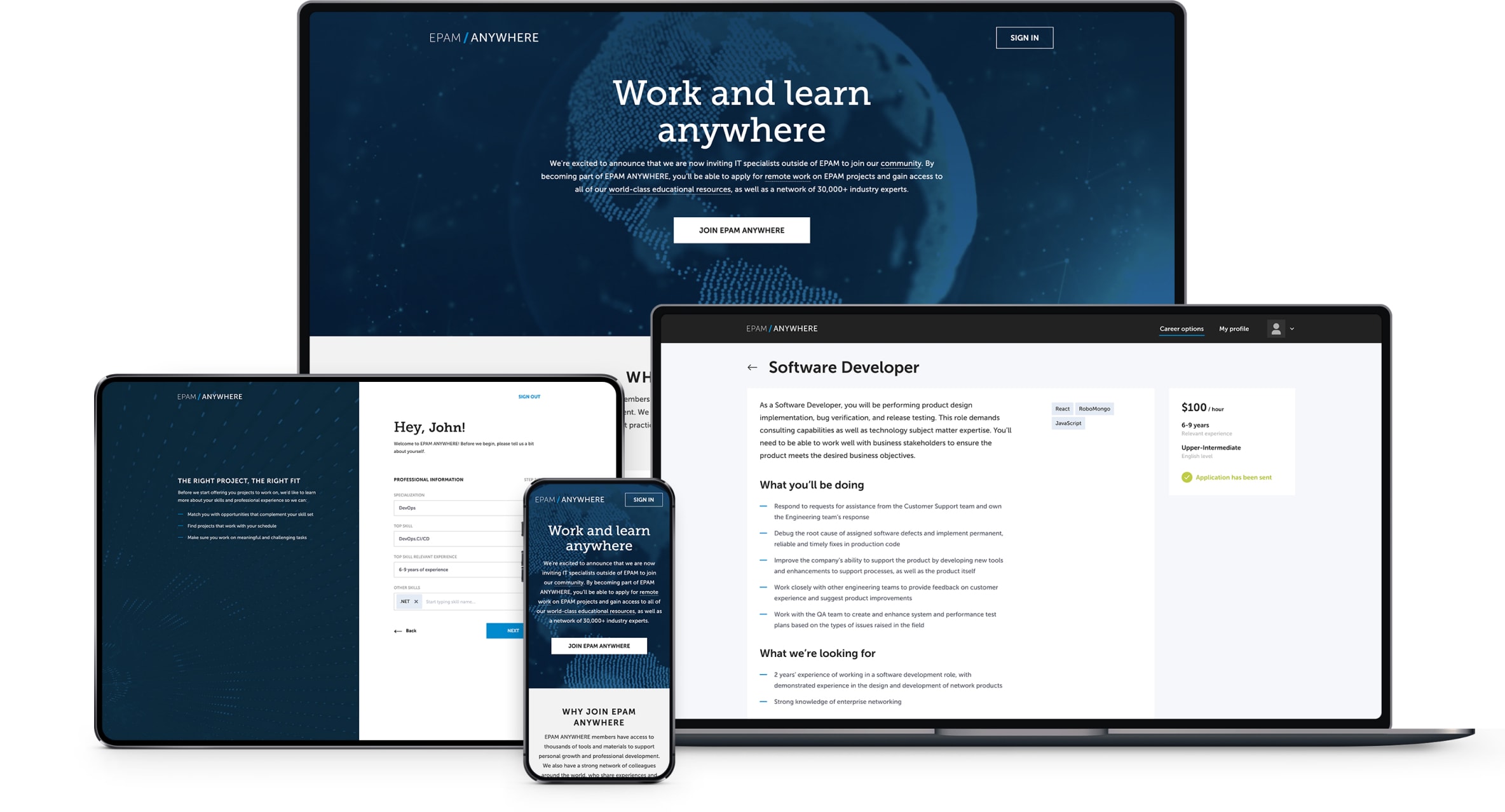 Branding
On the one hand, EPAM Anywhere is a product for engineers, not enterprises. On the other hand, EPAM already had it's global branding guidelines, thus any new product branding should be aligned with the global marketing team.
Keeping this in mind, our team created many logos and branding variations, as well as provided stakeholders with a lot of iterations on a selected logo idea, until we met all the requirements: both from a user side, and the business side.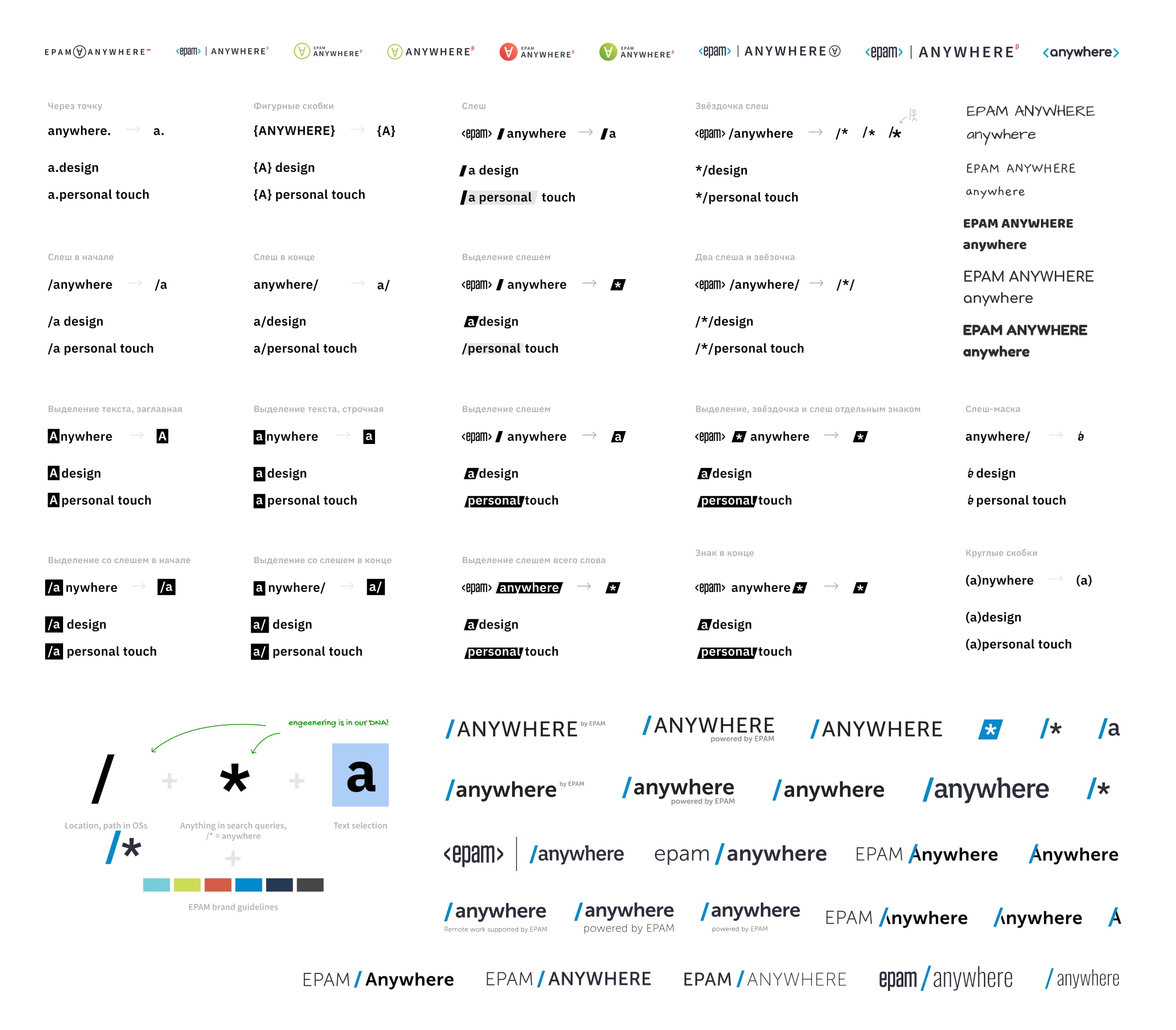 The logo uses a simple metaphor of a file system — "slash" symbol is a reference for location and represents EPAM's mojo "Engineering is in our DNA" at the same time.

UX/UI design
Based on the EPAM Anywhere branding and in close collaboration with the dev team and stakeholders, our team designed a number of unique pages, including adaptive versions. Working against tight deadlines and in the face of high uncertainty, we managed to meet all the expectations and launch the platform.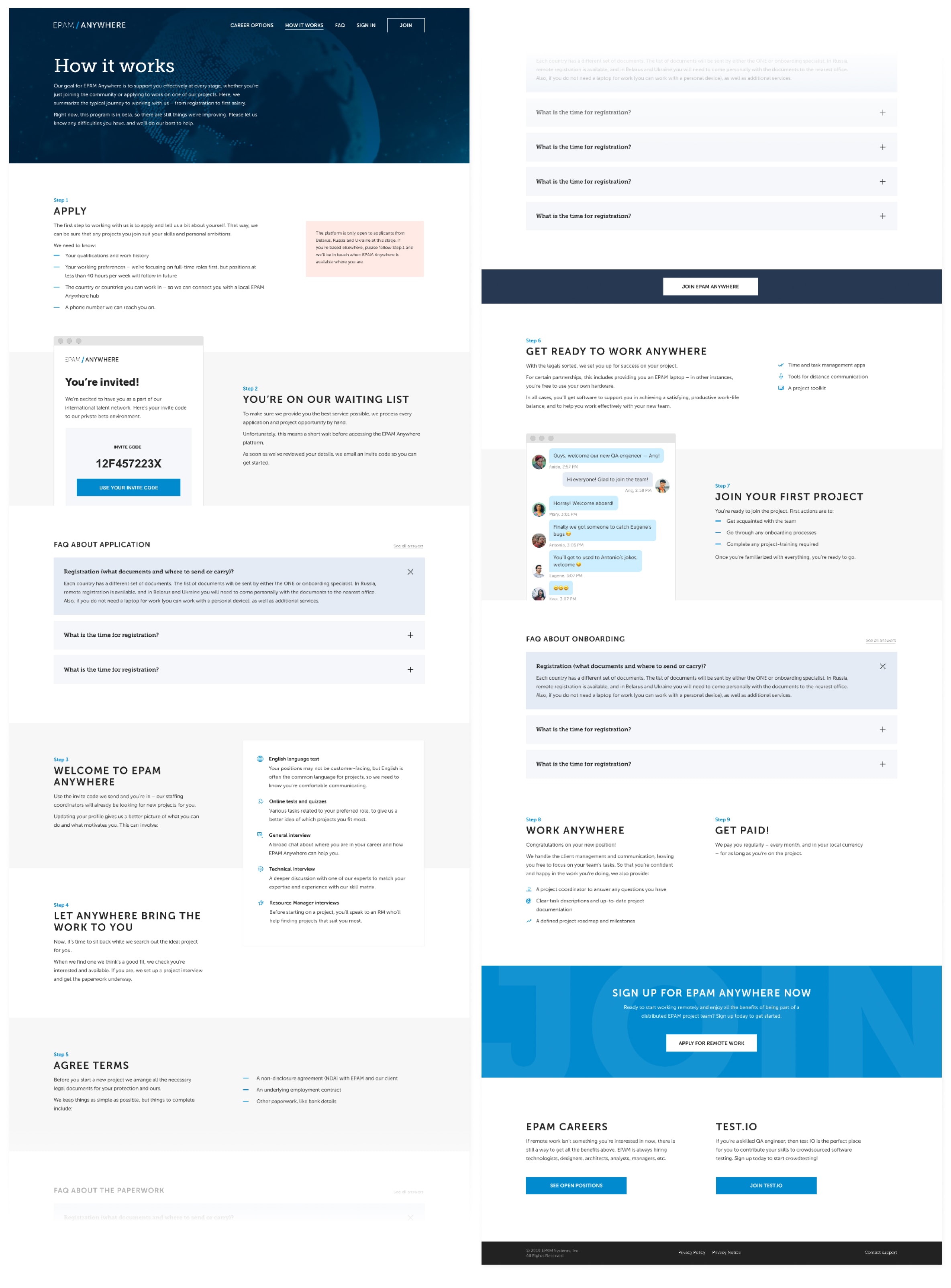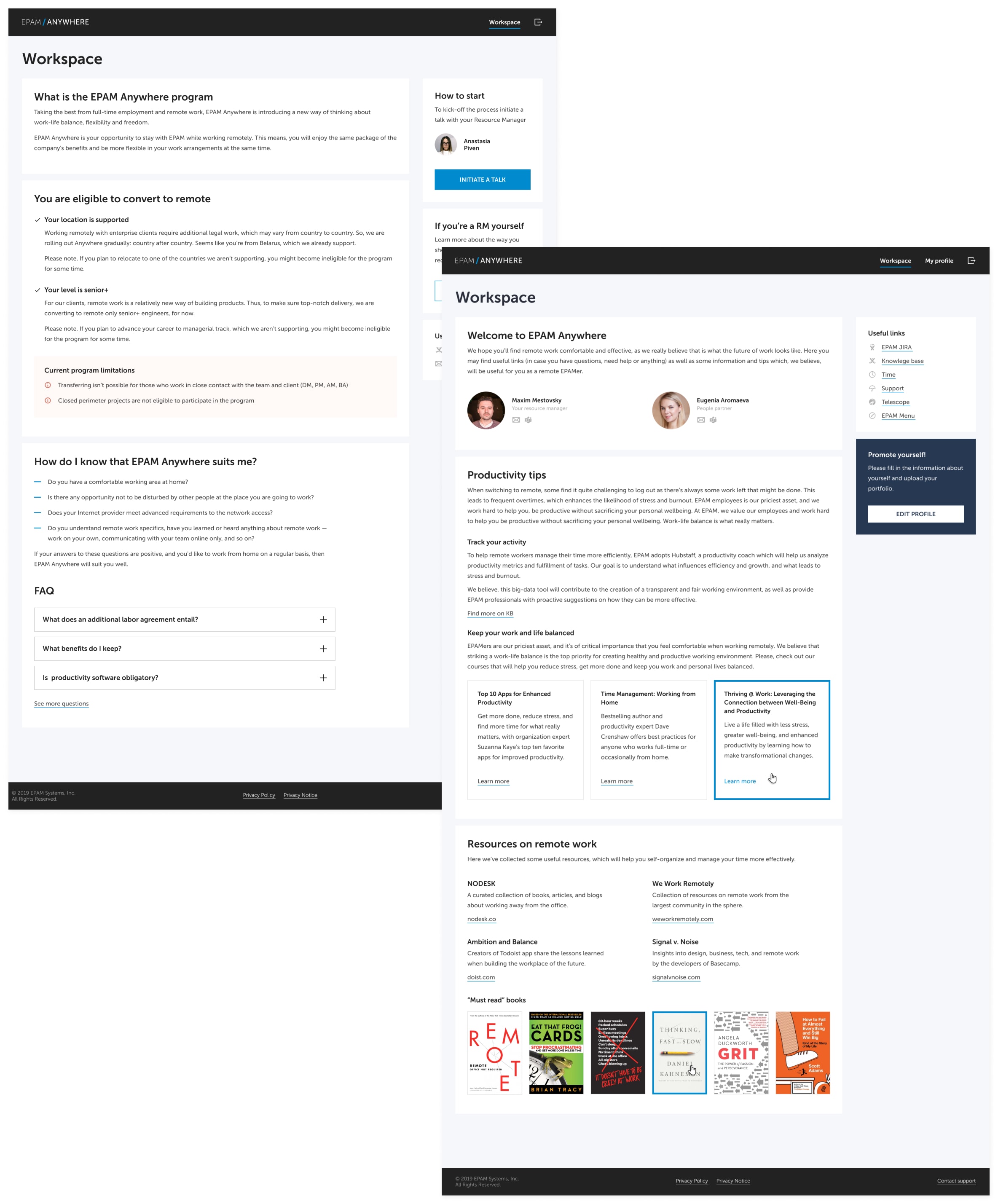 UI-kit
In parallel with the page design, our team created a UI-kit for designers and a style guide for front-end developers, thus ensuring visual consistency across the platform and increasing delivery speed. This UI-kit is now a foundation for a global EPAM product design system.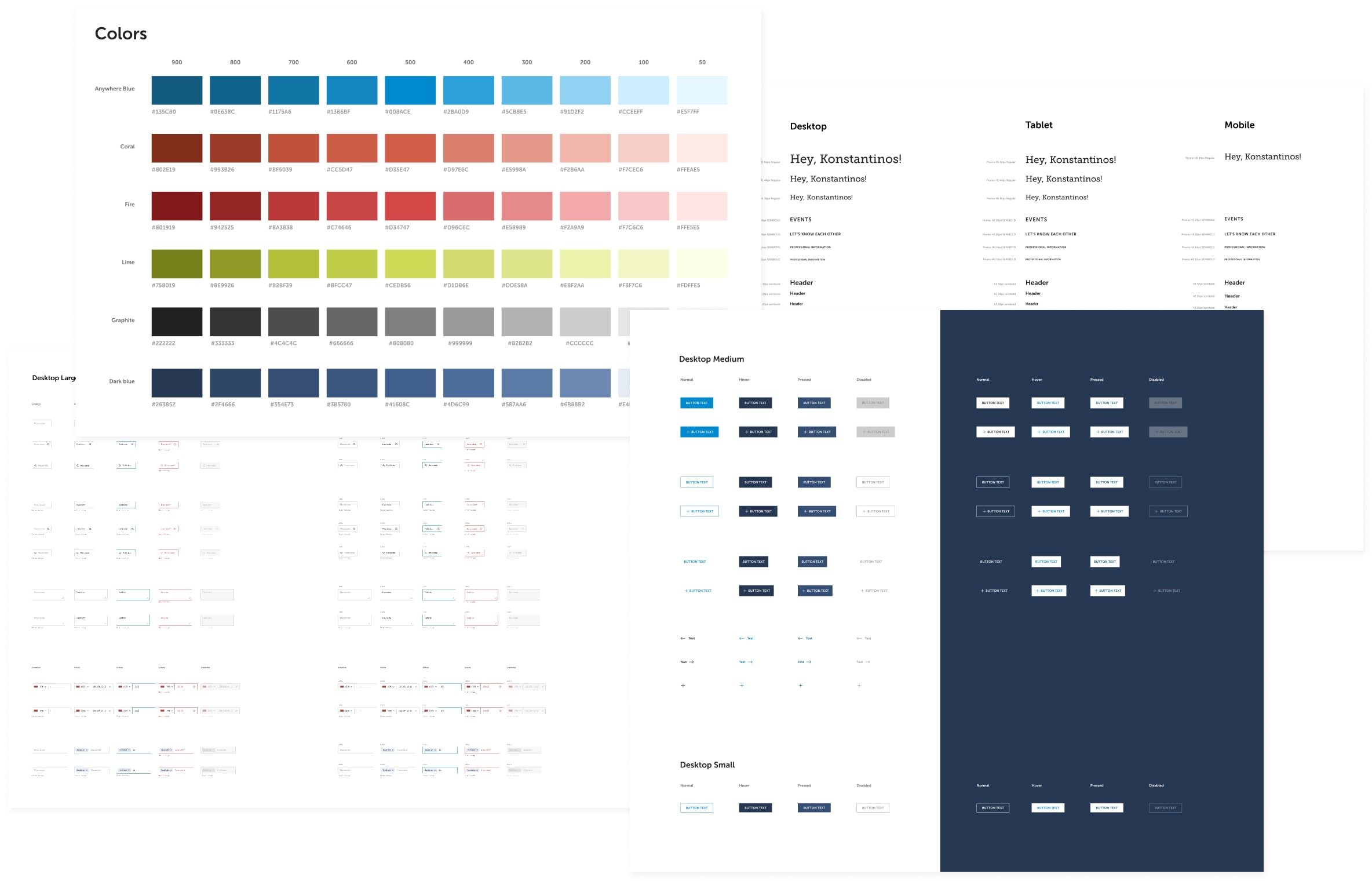 Content strategy
At the start of the project, we didn't have any copywriters on the team, due to the "startup-like" nature of the project. To keep the project going, I used my previous experience in marketing and content strategy, providing the team with content for pages, landing, fields, forms, pop-ups, tutorials, etc.
With this content "sketches" our team has been able to move without waiting for copywriters, while stakeholders already received some ideas to discuss during content strategy sessions.
Business operations support
Our team also provided business operations teams with design support. Based on the EPAM Anywhere branding guidelines and Anywhere portal UI-kit, we created a template for presentations, a lot of emails, Confluence pages, and more.
Results
Now the Anywhere portal is up and running. EPAM now offers an opportunity to work remotely for talents from cities where we don't have offices yet. Meanwhile, our team keeps improve current flows and deliver new functionality ensuring we meet both business and users' needs.